By Chris Brady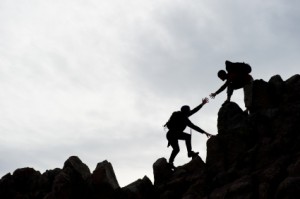 I once heard a fascinating presentation from Erik Weihenmayer, the blind mountain climber who summited not only Mt. Everest, but all the other tallest peaks on the planet.
Weihenmayer and his team of 21 members set a world record by having 19 of them make the summit.
What was more incredible than Weihenmayer's feats of conquest, however, was the class and heart he displayed, without effort, on stage.
I have rarely heard anyone speak so highly of teammates and the accomplishments and assistance of others.
Weihenmayer was a master of giving credit away and shining the spotlight elsewhere.
For a blind man to reach the top of the tallest mountain in the world, a team was definitely necessary. No one could have been more appreciative of their team than Weihenmayer; no sighted person could have had more of a twinkle in his eye.
As I listened to the captivating details of Weihenmayer's climbs, it occurred to me that the spark of something I caught in Weihenmayer's character came from two things central to his existence that are not to be found in the lives of most people I meet:
1. Weihenmayer was doing exactly what he was meant to do with his life, living in the center of God's purpose for him; and
2. He was doing it with all of his (dis)ability.
The pictures and film clips that he showed demonstrated these two facets of Weihenmayer's life very clearly to me. He was living his life in the zone.
These observations set me to wondering. Why is it that so many people, given perhaps more physical blessings than someone like Weihenmayer, do so much less with their lives? Why do most people waste their days without ever seeking that purpose for which they were built?
Why don't people take the risks to pursue what their God-given talents and passions point them towards? Then I happened upon the question: If we had been blessed with less, would we be accomplishing more?
Sure, Eirk Weihenmayer has an obvious physical disability. But everyone, including Weihenmayer, has mental "disabilities."
We are all limited by pride, ego, fear, lack of confidence, laziness, passivity, indifference, and the desire for comfort.
Perhaps Weihenmayer became good at overcoming his limitations because he was forced to do so in the case of his lost eyesight. The same mental toughness he developed to overcome his physical disability may have become supremely instructive in how to overcome his mental disabilities.
I took great lessons away from Weihenmayer's talk. I realized how important a team is to individual success, and I learned from a master how to share credit and lift up others.
I felt ashamed that I hadn't sacrificed more of myself toward my purpose, and I understood, for the hundreth time, that life in the zone is the only place to really live.
It's when we have the guts to push ourselves to the limit, to surpass all edges of comfort and familiarity, to step out far on the ledge, to force our bodies into submission to our minds, that we will maximize all the potential God put inside us.
Anything less is cowardice and lack of gratitude for our blessings. Anything less would suggest that we had been given too much.
*******************************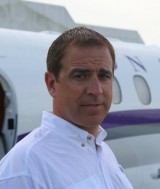 Chris Brady co-authored the New York Times, Wall Street Journal, Business Weekly, USA Today, and Money Magazine best-seller Launching a Leadership Revolution.
He is also in the World's Top 30 Leadership Gurus and among the Top 100 Authors to Follow on Twitter. He has spoken to audiences of thousands around the world about leadership, freedom, and success.
Mr. Brady contributes regularly to Networking Times magazine, and has been featured in special publications of Success and Success at Home. He also blogs regularly at Chris Brady.
He is an avid motorized adventurer, pilot, world traveler, humorist, community builder, soccer fan, and dad.
Connect With Chris: