"Destiny is not a matter of chance; but a matter of choice. It is not a thing to be waited for, it is a thing to be achieved." -William Jennings Bryan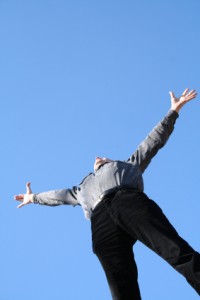 The abundance paradigm is living with a sure knowledge that there are unlimited resources — material and otherwise — that can be shared and enjoyed through love, service, and cooperation.
It's having an intimate connection with the nature of the universe that gives us power and light. It is the source of the creative power within us.
Those in abundance are happy, confident, peaceful, loving, and full of faith.
Because they have no fear of loss, they are able to serve others with full assurance that they will benefit from that service. They understand that, in the absence of deception or coercion, every economic transaction is a win for every party involved.
Abundant people are wise stewards of their resources. They don't waste, neither do they hoard. They responsibly find the most productive uses of their resources to create the most value for as many people as possible.
The scarcity paradigm, on the other hand, leads to destruction, misery, fear, and pain.
Those in scarcity believe — whether subconsciously or consciously — that there are limited amounts of resources in the world.
Because of this belief, they face a constant dilemma: they think they must either choose between selfishly taking as much stuff as possible for themselves, or giving in to the demands of others.
Life is always a win-lose proposition to those in the scarcity paradigm.
They believe that any time they gain something, someone else loses, and vice versa. They resist service because they think it does nothing but take time, effort, and/or money away from them without giving them anything in return.
Those in scarcity are poor stewards of their resources. Because of their constant fear of loss, they accumulate and hoard, and as a result, they rarely use their resources productively to create value for others.
The Choice
Every moment of our lives comes with a choice that determines all of our results. That is the choice between scarcity and abundance.
The fundamental aspect of our nature that defines us as human beings is our ability to choose.
When we consistently choose scarcity, our ability to choose is diminished, while when we consistently choose abundance, our ability to choose is increased.
This is so because scarcity leads to a victim mindset where we feel that we are not responsible for our results, and that we have no control over them.
This lack of accountability permeates our minds so that we actually stop trying to create better lives for ourselves.
Abundance leads to a hero mindset where we realize the truth that, "If it is to be, it's up to me." We understand the direct connection between choice and consequence, and we feel responsible for our results.
The first and most important step towards prosperity is to be consciously aware of the choice between scarcity and abundance, and to choose abundance. Everything else flows from this critical, determinant choice.
Prosperity is always the result of consistently choosing abundance in the face of scarcity.
No amount of earning, saving, investing, discipline, luck, or time can save a person who cannot conquer the scarcity mentality and embrace the abundance mentality.
*******************************

Garrett Gunderson is an entrepreneur, financial coach, the founder of Freedom FastTrack, and the primary author of the New York Times bestseller Killing Sacred Cows: Overcoming the Financial Myths that are Destroying Your Prosperity.
Garrett loves inspiring others to turn their potential into production. He has dedicated his life to living and teaching a unique concept known as Soul Purpose that reveals how anyone can live a more prosperous and rewarding life.
As a finance and business productivity coach, Garrett instructs both large and small groups of business owners and financial service professionals nationwide.
Connect With Garrett: