This is part 2 of a 2-part article.
A fifth type of party people, Activists, are usually familiar with the other types but they put most of their effort into influencing state or federal legislative votes, agency policies, judicial cases or executive acts.
They are found at all levels of government from local to international organizations. Some of them put most of their focus into elections.
Party Officios, a sixth type of party promoters, hold party positions (voluntary and informal as well as official) in local precincts all the way up to national committees.
Some are full-time paid professionals or experts, but the large majority of them voluntarily serve as officers, delegates, candidates, unofficial advisors and other roles in the party.
Among party Officios are those holding office. These elected and appointed officials represent their party in specific positions of public service.
Seventh and eighth types are Donors and Fundraisers. They of course play important roles in all parties, since politics is expensive and funding often significantly influences policy and elections.
There are various other types of people that help parties succeed, but the most influential type of all is the people who could simply be called "Majorities."
The obvious power of Majorities is that they have the numbers and therefore the votes to steer the party. They elect the delegates who elect the party candidates, and their influence is deeply and widely felt in general elections.
Majorities are mostly made up of regular, non-politician, thinking citizens who have the most influence on party delegates, general donations and the general voters.
Majority types are usually not Traditionalists, Politicos, Officios, Wonks or political experts.
But they keep track of what is happening in society and think seriously about political concerns, issues and elections. They spread their influence day after day and impact thinking widely and consistently.
The media is seldom able to predict close elections because of this wildcard: Since Majorities' type of engagement is largely internal and interpersonal, and because their influence is largely in a realm that is under-valued (or perhaps beyond the control of) those in power, it is almost impossible to know what Majorities are really thinking and to predict how they will impact outcomes.
Save the Cheerleader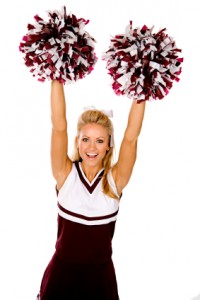 So why do the parties need independents?
At first glance, it might appear that the parties would do better if independents would just split and join the big parties.
But a deeper analysis shows how significant the growth of independents has become.
Independents aren't just the new numerical majority; they are the barometer of success.
As a type, independents aren't Traditionalists, Politicos or Officios. Most of them are Majorities, and a lot of them are Wonks.
In short, they care little about the future of the party, and a lot about helping both people in particular, and the nation in general.
Parties need the votes of independents, but they need something more. The two big parties both need independent Majorities.
When they are receiving independent support, they know that they are probably on track. Or, when they lose independents, they know to step back reevaluate their direction.
There are certainly times when government officials need to ignore independents and everyone else and stand firm on the right path.
But most times they can pretty much tell how well they are doing by finding out what the independents are thinking.
Of course, independents aren't always right. But they are right more often than the big parties because in general, they care more about the nation than about party power. Madison and Jefferson would applaud.
This is a great benefit to both parties. In some ways, independents have made it easy for politicians. Win the independents, win the election.