The 3 Superpowers and The State of the World Right Now
(WHAT EVERY AMERICAN SHOULD KNOW)
By Oliver DeMille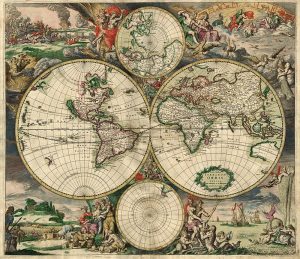 America isn't supposed to act this way, the experts say. After all, we invented the liberal international order—the growing sprawl of international organizations, treaties, and laws that all nations are eventually supposed to join, and follow. Founded in 1917, 1921, 1944 and almost every year since, Internationalism, now usually called Globalism, is America's biggest export. More than freedom. More than apple pie. More than movies, even. But this whole arrangement has been turned on its head in the era of Brexit and Trump. Sadly, most Americans don't realize what is happening in this battle/race for world leadership.
One: The United States
The two most powerful enemies of Globalism, Russia and China, once had a clear path to success—to slow down the growth of Globalism, slow down America and it's NATO allies, and thereby increase their own status. For that matter, between 1944 and 2017, most U.S. policy makers had the same direct approach: spread U.S. influence by supporting the expansion of Globalism. Globalism itself was built on three main pillars—an "acronym salad" of international organizations (from the UN to the IBRD (World Bank) and IMF, from the World Court, the G7 and G8, to the GATT and eventually the World Trade Organization, etc.), free trade agreements, and collective security arrangements.
By the 1980s, Internationalism dominated the U.S. government and universities; anything that differed from the aims of Internationalism was decried by experts as dangerous isolationism. When I was in college, for example, and wanted to study Political Science, multiple professors assured me that "Political Science is outdated…study International Relations, that's the future." The U.S. State Department and a host of foreign policy professionals in our universities convinced three generations (1964-2016) that Internationalism, and later Globalism, equals freedom, and that the U.S. is just one part of Globalism (along with a bunch of other nations), not its indispensable leader.
This all changed with the advent of Brexit, followed by the surprising (to the experts) election of Donald Trump. According to one expert: "Although future presidents will try to restore the classical version of U.S. foreign policy [Globalism], in all likelihood, it cannot be returned." (Foreign Affairs, May/June 2019, p. 10) Why? Because Trump is patently against free trade agreements that are built on Globalism rather than economic benefits for Americans, and against international organizations that sap American power and resources without giving back commensurate benefits to American citizens. For the foreign policy establishment, this is heresy. After more than 70 years of trying to convince world leaders to join Globalism, Trump's rejection of the Globalist system will probably make it impossible for heads of state to trust future U.S. assurances of Globalism. After all, as 2016 proved, a single election can erase, and even significantly reverse, seven decades of U.S. policy. This is what the American Framers intended, but it is anathema to the current foreign policy establishment.