Where are We Right Now as a Nation, and Where are We Going?
The Not Quite New Normal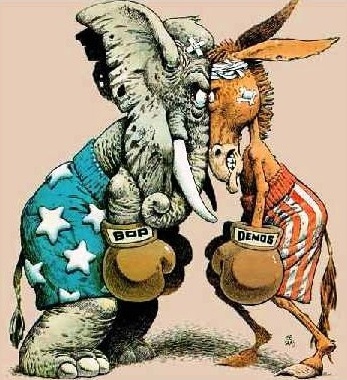 This is the way we govern now. The White House is the prize. Majorities in Congress are the way to get closer to the prize. And the ultimate goal is to control the Supreme Court, because it now has almost ultimate power on whatever issue it engages.
This is the way we govern now. To win these prizes, the party out of power goes on the offensive. Its mantra is attack, attack, attack. Look at the last 8 years: the party out of the White House (Republicans) attacked the party in the White House (Democrats) with whatever scandal it could. Ben Ghazi. Clinton emails. IRS targeting. Obamacare. Fast and Furious. Loretta Lynch on the tarmac. Obstruction of every White House project they thought they could slow down. Calling ISIS "the JV team." Debts and deficits. Some of these needed to be openly and loudly addressed, yes. But this is the way we govern now.
This eventually brought Republican majorities in the House. Then the Senate. Finally the White House. The same happened in the 8 years before that, from 2000 to 2008, only at that point the roles were reversed. Democrats attacked Republicans, especially those in the White House, with everything they could muster. Hanging chads. No WMDs. The outing of Valerie Plame. The Great Recession. The rise of fuel prices from a little over $1 per gallon to about 4 times that. False allegations that President Bush repeatedly skipped out on required military service. Carl Rove and Scooter Libby in a Special Prosecutor gone wild. More debt, big deficits, using the Justice Department to investigate political rivals of the White House. Again, some of these needed to be opposed, but this has become the centerpoint of our governance.
The eight years prior to that followed the same pattern, with the party roles once again reversed. Republicans attacked the Democrats with allegations of Lewinsky-gate and abusive behavior toward Paula Jones and other women by President Clinton, Impeachment by the House of Representatives for Perjury, China-gate, White House handling of the Waco and Ruby Ridge standoffs, Hillary's proposed Health Care plan. In the decades before that it was Iran-Contra, "Read My Lips," etc.
This is how we govern now. It's not only the perpetual campaign, where even between elections both parties are fully engaged in tearing each other down, it's also a high-stakes game of thrones where both sides are out for blood—and the losers are the American people. In short, as mentioned, this is how we govern now. And it's not good for our nation.