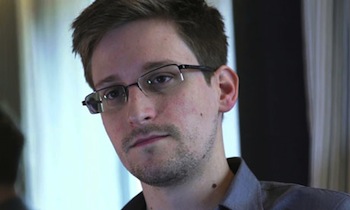 We are living through a major transition in America, and the Edward Snowden case illustrates just how significant it is.
As recently as 1991, the American people were proud of their country, and highly impressed with their government institutions and leaders.
The people looked up to the White House after what many considered a successful operation in Kuwait and Iraq, and most Americans felt a sense of accomplishment from winning the Cold War.
Europe and even Russia seemed committed to following the "American way," and as the lone superpower the United States appeared poised to promote the American Dream around the globe. Washington D.C. and most federal institutions were considered successful and dedicated to freedom, prosperity and peace.
Fast Forward
Fast forward twenty-two years and we seem to be living in an entirely different epoch.
The mood of partisan cooperation that was riding high after 9/11 is long gone. People expect the White House, regardless of party, to lie to them about everything from missing weapons of mass destruction to IRS targeting of political groups to spying on them.
This loss of faith in institutions extends to business and beyond. Many conservatives no longer trust Wall Street, Congress, the CIA or FBI, and many liberals no longer believe in the agendas of the Court, the White House, Hollywood, or even the ability of the media to make things right.
Institutions everywhere are under siege. Support for organized religion is down from 65% in 1973 to 48% today (Gallup, June 2013), and the popularity of government institutions has plummeted. The Presidency now only has 36% approval and the Court has a mere 33%. Only a third of the nation's citizens favor their top leaders.
Approval rates for big business, public schools, TV news and newspapers are even lower; Congress is the lowest of all at only 10%. People don't even feel they can trust Internet providers, search engines, social media platforms, or phone companies.
They still use the services of companies and various government agencies, but they don't trust them. Many people trust the political parties least of all, and pretty much nobody trusts big banks or Madison Avenue.
Even Main Street institutions are losing support, as people's mistrust of city hall, big box retailers and local "Obama-care health providers" grows.
This is surprising, because institution building has been one of America's top national agendas since its inception. Why this change in the American psyche? Institutions used to be part of our national DNA; now we are turning against them in droves.
Bad News, Bad News
Is this trend good or bad for America and the future of freedom? The answer is, simply, good.
For too many years a lot of people gave almost blind support to institutions—based on public relations, historical legacies, and above all, their massive size. "An organization that big must be doing good things, right?"
It turns out the answer to this question is, "Actually, no."
In the emerging transparency of the information age, more people are demanding that institutions genuinely earn their trust and loyalty. As a result, most institutions are losing support, but a few are proving their worth.
The U.S. military is popular (76% approval, Gallup, June 2013), and so is small business (65%). Strongly polarizing institutions like the National Rifle Association and the ACLU have a lot of loyal supporters.
In short, it's not that Americans dislike institutions per se, we just don't buy the corporate-politico spin anymore. In the age of the Internet, we see through much it almost immediately. And when we do connect with occasional institutions that really do fill our needs, we give these rare organizations a higher level of loyalty.
That's a good thing. The question is whether government can ever win its way back onto the positive column.
The answer to this is seriously in doubt. Such a government would have to genuinely care more about the people than itself. It would have to see freedom as a higher goal than security — though both are of course essential.
Such a government, however else it responds to a person like Edward Snowden, would celebrate the fact that he told the truth about an immoral secret government program that threatens everything America once stood for.
Is Snowden a Lawbreaker?
Some people will say that Snowden broke the law. Yes, he did.
So did Thomas Jefferson, George Washington, Benjamin Franklin, John Adams and the rest of the founders.
They broke the law because it was bad law. They committed treason against the British government because it was an institution they could no longer support, one that put its own interests ahead of freedom and its people.
They broke the law, as they proclaimed in the Declaration of Independence, because it was the right thing to do.
When the law commands us to do immoral things, as Gandhi and Thomas More and Copernicus and Moses and Jesus Christ and others showed us, it is bad law.
Of course the American founders stood up against such laws. Of course they demanded that the government change and return to its true moral purpose.
As Frederic Bastiat taught, when a government forces its citizens to choose between morality and legality, the government itself is breaking the most important laws.
Alexander Solzhenitsyn said that modern America isn't a good example of freedom because too many Americans choose what is legal over what is right. That's a guaranteed way to ruin a nation.
We applaud the soldiers who stood up to Hitler's orders and refused to torture or kill people, even though these actions broke the law of the land and the chain of command.
In fact, America led the push in the post-war Nazi trials to convict men who did terrible things even though not doing them would have broken the law.
We told the courts that following the law is no excuse for doing the wrong things.
Law is extremely important to freedom – even sacred, in fact.
And, as the founders taught, doing the right thing is always the truly lawful choice. Any other view is ignorant of what "law" really is.
If law is merely power, not based on what is moral and right, then it is a bad thing. Period.
Caesar and Caligula had laws too. So did Saddam Hussein, Stalin and Mao.
Together their agents tortured, raped, butchered and buried millions in mass graves — all in the name of "law."
Bastiat famously said that, "Destruction is not profit." Likewise, immorality is not law, no matter what government supports it or enforces it.
When the government puts its laws above morals, of course the people lose faith in institutions. What else should they do?
I have no idea whether or not Edward Snowden did what he did for the right reasons, but how can any person who loves freedom not feel sick about the things he showed us about our own government?
When our government breaks the moral law in the name of security — then pretends to have the moral high ground as it pillories the whistleblower as the villain — that's when we should be the most concerned.
In all of history, that is the single greatest danger sign. That's when freedom is most deeply under attack.
And that is what is happening right now.
*******************
Oliver DeMille is the co-founder of the Center for Social Leadership, and a co-creator of TJEd. He is the NY Times Bestselling co-author of LeaderShift, and author of A Thomas Jefferson Education: Teaching a Generation of Leaders for the 21st Century, The Coming Aristocracy: Education & the Future of Freedom, and FreedomShift: 3 Choices to Reclaim America's Destiny.
Oliver is dedicated to promoting freedom through Leadership Education. He and his wife Rachel are raising their eight children in Cedar City, Utah.