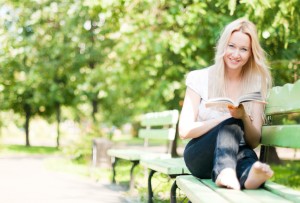 "Dad, can you read to me more?" Meri asked me.
Surprised, I looked up from my book and responded, "Oh, sure."
I took the book she was reading and read a chapter aloud to her. When I finished, I handed her the book.
"Thanks, Dad," she said. "I could have read it myself, but I just love it when you read. I mean, in the winter you read to us a lot, and with all our classes and other activities it seems like I learn a lot from you, and all my other teachers.
"In the summer is when Mom reads to us the most, out on the couch on the porch, but I don't learn as much from other people, and it seems like you don't read to us as often."
Meri walked away with her book, but our little conversation got me thinking.
I've always taught that winter is the key time for family reading. But I think that summer is the most important time for kids to see their parents reading—mainly because they tend to spend less time on official "schooling" activities and more relaxed time with parents (and observing their parents' leisure activity choices) during the summer months.
When children and youth see their parents reading a lot, they naturally value reading. When children and youth value reading, they read more.
Our choices during summer to make a huge difference in the education of our kids, and one of the most impactful things a parent can do is set the example of reading. If your kids see you reading books a lot, especially during summer leisure, not only are you filling your bucket of ideas and resources, but the example you set can drastically influence them. Reading is powerful!
On the national scale, all free societies are reading societies, and reading starts in the home!
Here's a great summer reading list* that I'm following. I'm making sure all my children and youth see me reading these books this summer. And I'm really going deep—by reading with a highlighter and pen, taking notes and marking quotes as I go.
I'm sharing these books because I hope you'll do the same:
This great book isn't part of the Great Books of Western Civilization, but it could be. I want my children and youth to see that I care about history, and I'll look for opportunities to share Livy's stories with them and talk about the connection between reading history and being successful leaders in life.
I want my kids to know what a "rascal" is–at least the way Brady defines it. I want them to be the kind of people this book promotes, and I can't wait for them to ask me about this book.


I want my youth to be innovative, creative, and have initiative. This is one of the hardest things to teach, but I'll look for opportunities to discuss these things as I read this book.


Isaiah, in the Bible
I love sharing scriptural verses with the kids and discussing the meanings and lessons. It leads to a lot of important conversations with the kids about the most important topics.
I can't wait to talk to my kids and youth about this book! It's about seeking for greatness, learning from your mistakes, not settling for mediocrity, and constantly improving yourself. I know the title of this book will have all my kids asking me questions about it!
Chillin' and Grillin'
This week I've been reading these books in the evenings outside by the grill and the court where the kids play basketball, in the hot afternoons near the swamp cooler, and in the kitchen before meals and during cleanup after the family eats. I've taken turns with each book, so I'm a few chapters into all five of them, but I've had more than one discussion about each with the kids.
Tonight as dinner started, I got everyone's attention and said, "I'm reading this awesome book. Actually, I've read it before but I'm re-reading it and I want to share something from it that really touched me."
Everyone quieted down and listened. "Here goes," I said. Then I read from Voyage of a Viking:
Kids can be pretty relentless in teasing one another, and the kids in my school were no different. I had never before been the subject of teasing and bullying, so it was a new experience for me. You see, news of my parents' divorce got around town pretty quickly, and it wasn't too long before the news hit my schoolyard.
The little kids in the family were leaning forward at full attention, and even the teens were paying close attention. I kept reading:
And then the teasing began. 'There's Tim, and he doesn't have a dad,' the kids would whisper to each other and taunt me.
I stopped reading and asked, "How would that make you feel?"
"I'd hate it!" Meri said forcefully. The other kids agreed.
After they shared their feelings, I asked, "Have you ever been teased like that?" We discussed this for a while, then I asked everyone, "Okay, I have another question. Have you ever teased anyone this way?"
"No way!" Meri exclaimed. She is nothing if not earnest.
"Are you sure?" I asked slowly.
Everyone considered. "Well, actually," Meri said, then she told several stories of when she wasn't very nice to people in her life. The other kids shared too, and we had a great conversation about being good friends and also standing up against bullying even when the victim isn't your friend.
When I read what happened next in the book, everyone got even more interested. You've got to read it to get it! We spent dinner talking about this and discussing it.
At the end, I said, "I'm so excited to read the rest of this book."
"Me too," America said emphatically. "Meri" is nine years old, and she loves to read. I don't know when she'll read Voyage of a Viking, but I'll be sharing from it and the others on my list all summer.
Actually, I'm having a hard time reading it because after our dinner discussion my visiting twenty-year old daughter Sara borrowed my copy and is reading it. Oh well, she reads fast. In the meantime, I've got the other four books.
Tomorrow at breakfast I'm planning to share the following quote from Livy, where he says that he is excited to write about Rome because, as he puts it:
I shall be able to turn my eyes from the troubles which for so long have tormented the modern world.
I'll ask the family, "Why do you think people always feel that the modern, current world is so chaotic and hard and that the people in history somehow had things more simple? I mean, Livy thought this clear back in the time of Jesus Christ."
This question is more for the teenagers, while yesterday's conversation was perhaps more accessible to the younger kids. But everyone takes part in all of it. The older ones (me included!) bear reminding about Core Phase issues, and the younger ones benefit immensely by being including in the discussion of "serious" topics of academic and intellectual interest.
I could go on and on sharing examples of how to do this, but I've got a book calling to me. I've finished work for the day, and I want to read in the yard this evening—so I'll be near the kids and we can talk.
Maybe I'll teach them from one of these five books I'm reading, or maybe Meri will bring me a book of her own to read and talk about. Or perhaps we'll all just sit in the warm evening and watch the sunset and talk. I often have the stack of all five books around with me, so I can just pick and choose which to read and share.
In any case, I'm excited to keep reading and sharing my book list this summer. This first week has been great. I can't wait to see what we'll learn about together in the months ahead.
Summer is a great time for education. So just get out your books, start reading, and share! The impact on freedom is huge.