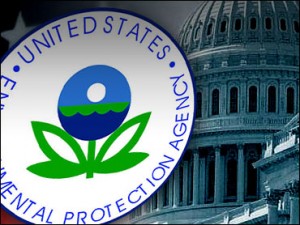 The Obama trifecta of scandals including Benghazi, IRS targeting, and AP phone records is now joined by another potential scandal.
The EPA is accused of ongoing "Sue and Settle" practices, which means that they work with left-leaning environmental groups who file suits against a federal agency and then the attorneys work out settlements that are beneficial to both sides.
All of this, it is alleged, is based on "a prearranged settlement agreement they craft together behind closed doors…While the environmental group is given a seat at the table, outsiders who are most impacted are excluded, with no opportunity to object to the settlements."
And taxpayers foot the bill for millions of dollars in costs.
As the scandals become a mainstream topic of media coverage, other agencies may face further scrutiny. And as government gets bigger and bigger, the executive branch and its many agencies are less and less accountable.
When government is too big, the number of scandals will predictably increase.
Whether or not the EPA issue becomes a point of mainstream discussion, this new era of scandal has rekindled the question of trust in government.
Historically, governments and officials who truly have nothing to hide urge the citizenry to be generally mistrustful of government.
The American founding generation felt that such mistrust of state and federal institutions was a hallmark of a wise and free people.
Indeed, the entire Constitutional framework is based on the fundamental assumption that those in power must be mistrusted and closely watched.
In more recent eras, governments have consistently called for people to give great trust to the government, even as agencies have become less transparent, more secretive, and less trustful of the people. In short, there is a real trust deficit in our society — but it isn't what officials and the media usually suggest.
The real problem is that government is lest trustful of its citizens, and the people are less likely than past generations to keep a close eye on potential government abuses.
The natural result is a steady decline in freedom. This may have sounded alarmist a month ago, but in the wake of current scandals it is mild compared to what many pundits are saying.
How many more federal scandals are waiting in the wings? More importantly, at what point will enough citizens finally stand up and begin to lead again?
Freedom only lasts when the people are closely involved in overseeing government and serving as the final arbiters of government power.
Until the people refocus on this role, America's current decline will inevitably continue.