By Chris Brady
As a father I am constantly on the lookout for lessons, stories, experiences, and role models that will be edifying for the development of my children.
Several years ago, while he was still a surprising sensation at the University of Florida, Tim Tebow came onto my radar screen.
There was something attractive about his relentless drive for excellence, his incredible work ethic, his will to win, and his unflappable attitude.
I also appreciated his testimony as a Christian.
Watching Tim Tebow go from being the youngest winner of the Heisman Trophy to a number 1 draft pick in the NFL was a source of excitement for my young boys.
I felt comfortable allowing them to watch his interviews, read his book, and listen in to his exploits as he transitioned into the professional ranks.
Tim Tebow, a home schooled missionary's kid who preaches at prisons and responds openly and honestly to crass questions from interviewers and critics alike, seemed the perfect role model for my children.
But something was amiss.
As Tebow put on his NFL cleats a disturbing chatter seemed to grow around him.
It seemed that the football "experts" were breaking their necks trying to see who could be more critical of young Tebow and his abilities.
They railed against his throwing motion. They railed against his accuracy. They laughed at Josh McDaniels, the then NFL head coach of the Denver Broncos who drafted Tebow in the first round.
And they even poked fun at his faith and his purity.
My children were learning hard lessons from this, but I guess that's what role models are for.
"Why are they saying so many negative things about him, Dad?" "Those people sure are being mean to him."
And on it went.
Then nearly a year went by before he got his real shot.
There were flashes of excitement in a couple starts his first season, but Tebow didn't win the starting job and was sitting on the bench as the first five games of his second professional season rolled by.
Finally, however, Tebow had waited patiently and prepared in obscurity long enough.
His opportunity arrived, and just five games into the 2011 regular season, with the Broncos languishing at 1 and 4, Tebow was given his chance.
But nothing is that easy, not even in fairy tales.
Tebow's play seemed to justify the claims of the critics. He missed wide-open receivers. He overthrew easy passes. He fumbled. He got sacked in the backfield.
He rolled up terrible statistics the likes of which no NFL quarterback could expect to post and still retain his job.
All the while the critics howled with their "I told you so's."
However, one thing Tebow did was win. In fact, his whole team seemed to start playing better. The defense stepped up to an unbelievable level.
Receivers started making stupendous catches. Running backs started nearly defying gravity. And Tebow himself seemed to come alive when the pressure was the greatest and pull victory out of the jaws of defeat – several times.
I am writing this article a bit early.
Althought Tim Tebow and the Denver Broncos have won four out of the last five games, anything could still happen and they could end up at the bottom of their division.
Their near-miss wins could easily start turning to losses, and if that happens, I have no doubt whatsoever the critics will have a field day once again.
None of that matters, however, because Tebow has already proven something extremely valuable, namely, that while people talk about lack of skill they should never underestimate the power of will.
What Tim Tebow brings is leadership.
He has that special ability to energize a team of players to each perform at their very own personal best.
He inspires, instills confidence, and makes those around him believe that anything can happen if they just have faith.
While the statistics bemoan his performance, Tebow proves again and again that there are some components in victory that can't be measured.
There are intangibles to greatness that come from deep within, that defy the odds and mystify prognosticators, and that just simply can't be contained.
Leadership matters. Character matters. Attitude matters. The will to win matters.
Critics, however, don't matter.
Tebow has shown all this and more.
I personally hope he keeps on winning in his unconventional way, in front of the NFL experts who so haughtily claimed "That's not the way it's done here."
The world needs to understand that unconventional doesn't mean wrong, inadequate, or below grade.
Unconventional just may mean revolutionary.
They said Tim Tebow wasn't ready for the NFL. Perhaps the NFL wasn't ready for Tim Tebow.
*******************************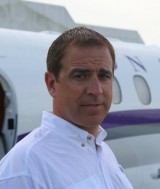 Chris Brady co-authored the New York Times, Wall Street Journal, Business Weekly, USA Today, and Money Magazine best-seller Launching a Leadership Revolution.
He is also in the World's Top 30 Leadership Gurus and among the Top 100 Authors to Follow on Twitter. He has spoken to audiences of thousands around the world about leadership, freedom, and success.
Mr. Brady contributes regularly to Networking Times magazine, and has been featured in special publications of Success and Success at Home. He also blogs regularly at Chris Brady.
He is an avid motorized adventurer, pilot, world traveler, humorist, community builder, soccer fan, and dad.
Connect With Chris: