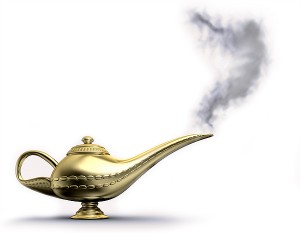 The old Cold War-era joke is told of an American, a Frenchman, and a Russian, lost in the wilderness, who find a lamp and rub it.
Out comes a Genie.
He offers them each one wish, for a total of three.
The American pictures the large ranch owned by the richest people in the valley where he grew up, and wishes for a ranch ten times its size, with flowing streams and meadows full of horses and cattle.
His wish is granted and he is transported home to his new life.
The Frenchman pictures the farm and cattle of the largest estate from his home province, and pictures one just like it.
Again, his wish is granted.
Finally, the Russian pictures the land and herds of the rich family in the steppes where he grew up, and wishes that a drought kill the cattle, dry up the grass, and bankrupt the aristocratic family.
This play on old stereotypes isn't really very funny, though it brings big laughs with audiences of producers.
They get it.
The Frenchman, thinking like an entrepreneur, wants the good things that life provides, and is willing to go to work to produce them.
The American, who thinks like an entrepreneur and an investor, is willing to go to work also, but wants to see his assets create more value.
The Frenchman wants value, the American plans for value, increased market share and perpetual growth.
In contrast, the stereotypical-punchline "Russian" in this parable can only think of one thing—getting even with those who seem to have more than him.
This is the same as Steve Farber's lament about the sad state of our modern employee mentality—where "burn your boss" is a slogan of millions of workers who see their employer as the enemy.
Even Washington sometimes likes to join the blame game by pointing fingers at Wall Street, Main Street and everyone in business.
Initiative, vision, effective planning, the wise use of risk, quality execution—all are the contributions of entrepreneurs and investors.
Without them, any society will decline and fall.
***********************************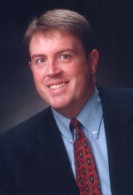 Oliver DeMille is the founder and former president of George Wythe University, a co-founder of the Center for Social Leadership, and a co-creator of TJEd Online.
He is the author of A Thomas Jefferson Education: Teaching a Generation of Leaders for the 21st Century, and The Coming Aristocracy: Education & the Future of Freedom.
Oliver is dedicated to promoting freedom through leadership education. He and his wife Rachel are raising their eight children in Cedar City, Utah.
Connect With Oliver: