by Chris Brady

Here's a snippet from a manuscript I'm roughing while here in Italy; musings on the Colosseum in Rome.
I also struggled, as I guess most do, with the purpose behind this amphitheatre.
This enormous, beautiful structure was constructed as a showcase of cruelty.
Only God knows how many murders occurred here, how many innocent victims, how many ferocious animal fights, the scope of the tragic destruction – all this, shockingly, in the name of entertainment.
As I stared down into what was once a celebrated killing field, I wondered what the Romans unashamed bloodlust had to teach us about our own society, and ourselves.
Were they worse than us, or just more public and shameless with their atrocities?
I tried relating a little of this to the children, but with a five and a six year old the answers didn't exist for their predominant question: "Why?"
Why, indeed.
It was a sober moment, in which it was impossible to forget that the power of Rome came from its violent conquests, just as in the arena it fed off the blood of its victims, by conquering, subjugating, enslaving, and systematically thieving.
Although Rome is famous for developing an effective system of jurisprudence, the "glory that was Rome" was anything but just, and certainly not glorious.
*******************************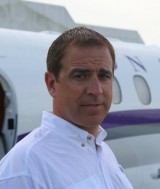 Chris Brady co-authored the New York Times, Wall Street Journal, Business Weekly, USA Today, and Money Magazine best-seller Launching a Leadership Revolution.
He is also in the World's Top 30 Leadership Gurus and among the Top 100 Authors to Follow on Twitter. He has spoken to audiences of thousands around the world about leadership, freedom, and success.
Mr. Brady contributes regularly to Networking Times magazine, and has been featured in special publications of Success and Success at Home. He also blogs regularly at Chris Brady.
He is an avid motorized adventurer, pilot, world traveler, humorist, community builder, soccer fan, and dad.
Connect With Chris: