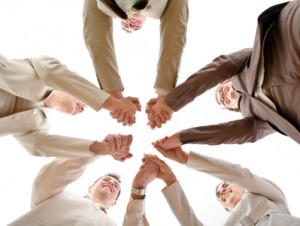 Hard economic times provide excellent strategic opportunities for entrepreneurs who are willing to buck conventional wisdom.
Here are a few ways to do that.
1. Raise Salaries
When so many employers are reducing their workforces and cutting salaries, step up by showing your employees how much you value Human Capital and give them raises. Contrary to conventional accounting wisdom, employees are assets, not liabilities.
Savvy entrepreneurs recognize that each dollar invested in raising salaries during economic hardships leverages the loyalty and productivity of employees far more than handing out comparable raises during boom times.
Now is the time you need to get the best out of your people. Increasing their salaries demonstrates strength, vision, and importantly, gratitude for their contribution to your success.
2. Spend More
Some great bargains are available now, for those who have the courage to nab them. Many assets are undervalued and can be acquired at discounted prices, be they inventory, fresh hires, office supplies or even real estate for future expansion.
It is far more conducive to wealth creation to focus on increasing your production, rather than on slicing your expenses.
Spend where your money will have the most impact.
3. Meet Less.
Control freaks meet. In good times, this inefficiency is easily glossed over. But now is the time to empower your people, set clear expectations and boundaries, and then get out of their way.
Instead of sitting around in meetings talking to one another, encourage your employees to get out and improve contacts with customers and vendors. Your team members can't spot any market opportunities passing time in your company conference room.
4. Stop Saving for Retirement
The best pension plan is simple: be successful. Although qualified plans are sacred cows, you can't afford to lock your money up in retirement plans now when liquidity is so essential.
Ultimately, your business is a far better investment than a 401(k) anyway, especially since it can provide ongoing cash flow without the worry of depleting principal. Invest in yourself and in your business.
By improving your liquidity, you'll have cash to fund your enterprise and seize opportunities created by the economic dislocation of others.
5. Put All Your Eggs in One Basket
Let others worship at the alter of diversification. Now is the time to take a long, hard look at your business's core reason for existing — its Soul Purpose — and focus all your resources and energies on it.
Who are you? Why do you exist? Who do you serve? What can you be the best in the world at? Stay true to yourself in hard times and shed the excesses you've allowed yourself along the way.
6. Go Back to School
Forget what you think you know about business, marketing and the economy. The world is constantly changing and fortune-makers will use slow business periods to bolster their education and leadership skills.
The most successful entrepreneurs I know are those who are constantly reading, attending seminars, engaging with mentors, and exposing themselves to new adventures and ideas.
This is even more imperative when the difference between those who weather the economic storm and those who don't may well be the extra edge and contacts that continuing education provide.
Conclusion
While others are downsizing, cutting back, floundering, and desperately trying to diversify, you should be building your people, spending more money on the right things, thriving by being on the cutting edge through education, and maintaining laser focus on what you do best.
*******************************

Garrett Gunderson is an entrepreneur, financial coach, the founder of Freedom FastTrack, and the primary author of the New York Times bestseller Killing Sacred Cows: Overcoming the Financial Myths that are Destroying Your Prosperity.
Garrett loves inspiring others to turn their potential into production. He has dedicated his life to living and teaching a unique concept known as Soul Purpose that reveals how anyone can live a more prosperous and rewarding life.
As a finance and business productivity coach, Garrett instructs both large and small groups of business owners and financial service professionals nationwide.
Connect With Garrett: