This is part 1 of a 3-part article. Subsequent segments will be published daily.
DEMOCRATS, REPUBLICANS, AND INDEPENDENTS don't agree on much, but most of them do believe in the excellence and effectiveness of the U.S. Constitution.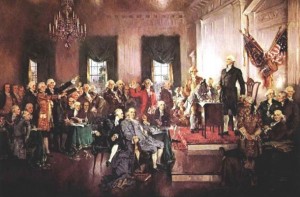 A group this diverse will, of course, have some disagreements on the details, but it is amazing how nearly all involved Americans support the document.
All agree that the Constitution catalyzed America's growth to freedom, prosperity and world hegemony.
Freedom works, it turns out; the Constitution codified and structured freedom at a level unparalleled in world history (affiliate link).
For at least fifty years, however, two major groups have disagreed about the fundamental direction of the nation as it relates to the Constitution.
Conservatives have seen the Constitution as an ideal to live up to, and operated on the premise that the country must be careful not to stray too far from the original intent of the founders.
They resonate with such things as strong national defense, separations of power, and protections of property.
Liberals, in contrast, have in general felt that this great document guaranteed basic rights and due process, but that it was meant as a starting point from which to continually amend and improve our society.
They tend to focus on individual rights, equalities, and the democratic attitudes of the document.
As a third, newer group, independents, tend to want the United States to value original intent, yet also make improvements where they are wise and practical.
Vital Foundations of Freedom
In view of all this, there are a few things that are fundamentally vital to the success and maintenance of the U.S. Constitution.
If these vital things are lost or ignored, or even changed in any way, the system will break down and our freedoms will decrease. These vital foundations include:
Separations of power between the executive, legislative and judicial branches
The independence of each branch
Checks and balances
Guarantees of freedom like "no ex post facto laws," "no bills of attainder," and the freedoms outlined in the Bill of Rights
Separations of power between the federal and state governments
Over the years, some have argued that we are in danger of losing some of these vital foundations of constitutional freedom. Certainly there has been some weakening over time.
But for the most part, the vital facets of the Constitution have held strong.
Weakening the Constitution
Unfortunately, in just the past few years we have seen major affronts to these vital constitutional guarantees. And more amazingly, there has been little concern voiced in the media or among the American citizenry.
When we let our freedoms slip away without a fight or even without concern, we take freedom, prosperity and happiness away from our posterity.
What kind of people do that? Are we such people? These are questions each of us must face.
Moreover, the loss of these vital constitutional foundations are not issues of parties­­­­—most liberals, conservatives, greens, radicals, extremists, moderates, hawks, doves, independents and nearly everyone else is generally opposed to losing our freedoms.
So why do we sit by and let it just happen?
The answer is simple, although the reality is quite complex:
We tend to let our freedoms slip away because they are tucked away in documents and policies that we don't ever deal with directly.
We either ignore current bills before Congress or, if we do get involved, we focus on the publicized issues instead of the many layers of complexity.
In short, we don't read the fine print.
***********************************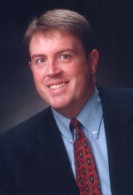 Oliver DeMille is the founder and former president of George Wythe University, a co-founder of the Center for Social Leadership, and a co-creator of TJEd Online.
He is the author of A Thomas Jefferson Education: Teaching a Generation of Leaders for the 21st Century, and The Coming Aristocracy: Education & the Future of Freedom.
Oliver is dedicated to promoting freedom through leadership education. He and his wife Rachel are raising their eight children in Cedar City, Utah.
Connect With Oliver: