Minnesota Representative Michele Bachmann once accused Barack Obama of holding positions that are "anti-American" (and she was not the first).
What did she mean? In order to define what it means to be "anti-American" we should define what it means to be "American" and use examples from history to see if our judgment is fair or even accurate.
Was Patrick Henry "American?" Was he who emphatically and boldly challenged: "…but as for me, give me liberty or give me death!" American?
Or did his adamant opposition to the Constitution as it was written in 1787-88 make him "anti-American?"
What does it mean to be "American?"
The fundamental philosophies and ideas that undergird the founding of the American Republic are the following:
Equality before the law
National and local sovereignty
Powerful self-governance and self-determination
Peace through strength
Disdain for imperialism and privilege
"Light on the hill" example of freedom
A willingness to fight against tyranny and oppression in all its forms.
Which of these principles is Barack Obama opposed to? How many of these principles have been not only ignored, but trampled by the policies of the outgoing Republican administration? Which "America" is Rep. Bachmann talking about?
Was Henry David Thoreau being "anti-American" in his willingness to be jailed for his refusal to pay a poll tax used to finance the Mexican-American War, which he believed to be unjust?
Was Martin Luther King Jr. "anti-American" when he helped "freedom riders" show Americans the absolute "un-American-ness" of "separate, but equal" and segregation?
When will we stop questioning one another's "American-ness," or patriotism?
I am as grateful for those whose patriotism is demonstrated in fighting with truth and justice to protect my rights at home from an ever-increasingly invasive government as I am for those who fight with weapons with defend my life.
What gives Rep. Bachmann the right to question anyone's "American-ness", especially when America is made up of thinking individuals who see things distinctly from their neighbor?
I challenge you to find someone whose motives you have questioned, then make a conscious effort to trust their motives, their love for their country, and the hope they have for its people.
****************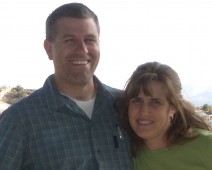 Mike Wilson received his B.S. degree in Chemistry from Brigham Young University and pursued graduate work at the University of California, San Diego, where he earned a M.S. degree in Biomedical Sciences prior to obtaining his M.D. at the UCSD School of Medicine.
He lives in Cedar City, Utah with his wife Jenni and their six children and practices emergency medicine in St. George, Utah while working on a Ph.D. in Constitutional Law at George Wythe University. He is also an Associate Mentor at GWU.
Mike's passion is promoting idea that the common man has power and capacity to affect grand change in the world through true principles of love, goodness, and virtue. Because of his Jeffersonian trust in the common man, he considers himself a "little d" democrat (an ideal, not a political party).
He believes that the cause of liberty is founded essentially in widespread powerful education, checks on power, and promotion of virtue and goodness. Force is never a real solution to problems for Mike and the statesman's role is to understand the ideal, see where society is, and then put himself in a position to move society in the direction of the ideal.