This is part 3 of a 5-part article.
Read Part I Here
Read Part II Here
Read Part IV Here
Read Part V Here
Crazy Like a Fox
It is interesting to compare and contrast this modern debate between the wisdom of the populists and that of experts and officials with the American founding view.
The brilliance of the founders was their tendency to correctly characterize the tendencies of a group in society and employ that nature to its best use in the grand design in order to perpetuate freedom and prosperity.
In fact, the American framers did empower the masses to make certain vital decisions through elections. Madison rightly called every election a peaceful revolution.
And, the founders did empower small groups of experts: the framers had senators, judges, ambassadors, the president and his ministers appointed by teams of experts.
Only the House of Representatives and various state and local officials were elected by the masses, and the House alone was given power over the money and how it was spent.
In short: The founders thought that the masses would best determine two things:
1. Who should make the nation's money decisions, and
2. Who should appoint our other leaders.
Riddle: When Is A Democracy Not A Democracy?
The founders believed that most of the nation's governance should come from teams of experts, as long as the masses got to decide who would appoint those experts and how much money they could spend.
Such a system naturally empowers and employs both populism and expertise.
If It's Not Broken, Don't Fix It
Compare today's model: Senators are now elected by the populace and the electoral college has been weakened so that the popular vote has much more impact on electing a president than it once did (and than the founders intended), thus increasing the power of the popular vote.
Yet many of the same intellectuals who support ending the electoral college altogether ironically consider populists "crazy" and "extremist." The incongruity is so extreme that is no wonder many conclude that there must be some dark, conspiratorial agenda driving this trend.
Talking Heads
The reason for this seeming paradox is simple: Where the founding era actually believed in the wisdom of the populace to elect, modern intellectuals seem to believe that few of these "crazies" actually believe what they say they believe.
Many intellectuals think that populists, conservatives and most of the masses are simply following the views provided by talking heads.
For them, populist "wing nuts" have been duped by the sophistries of Rush Limbaugh, Bill O'Reilly, Glenn Beck, Sean Hannity, Ann Coulter, or some other "self-serving anti-intellectual."
But at its core, the alarmist and wild antics of populist pundits are not the real reason many intellectuals question the sanity of conservative populists.
The deeper reason is that few intellectuals believe that sane people don't want more government.
They understand Nixonian Republicans and their desire for more power, government support of Big Business and less regulation of corporations. They may not agree with these goals, but they understand them.
They also understand poor and middle class citizens wanting more government help.
And they even understand the Reaganesque vision of fiscal responsibility along with strong schools, security and increased incentives for small business.
Does No Mean Yes?
What intellectuals struggle to understand is lower and middle class voters who don't want government programs.
For example, few of the populist "crazies" who oppose President Obama's health care would be taxed to pay for it, and most would see their family's health care benefits increased by Democratic plans.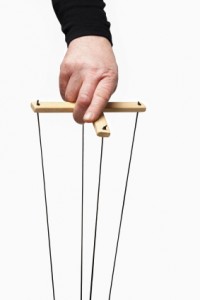 So why would they — how could they — oppose it?
Rich right-wing leaders who would bear the costs for health care must have convinced them.
This is a logical conclusion. Rich people opposing higher taxes makes sense. Lower and middle class people supporting increased government aide makes sense.
Rich talk show hosts telling people Obama's plan is bad makes sense. The people being duped by this makes sense.
What doesn't make sense, what few intellectuals are willing to accept, is that large numbers of non-intellectuals are looking past alarmist talk show host antics, closely studying the issues and deciding to choose the principles of limited government over direct, personal, monetary benefit.
Intellectuals could respect such a choice; lots of citizens refusing government benefits to help the nation's economy and freedom would be an amazing, selfless act of patriotism.
But they don't believe this is happening.
Instead, they are concerned that the "wing nuts" are following extremist pundits and unknowingly refusing personal benefit. That's "crazy"!
This view is reinforced by the non-intellectual and often wild-eyed way some populists act and talk about the issues.
In this same vein, intellectuals also naturally support the end of the electoral college because it would naturally give them, especially the media, even more political influence.
The most frustrating thing for intellectuals is this: The possibility that these "crazies" aren't really crazy at all — that they actually see the biased focus and struggle for power by the intellectual media and don't want to be duped by it.
Such a segment of society naturally diminishes the potential influence of the media, and is treated by many as a threat.
By the way, many conservative populists claim to be Reaganites. In fairness, they do align with a major Reagan tenet — an anti-incumbent, anti-Washington, anti-insider, anti-government attitude. These were central Candidate Reagan themes.
However, once in office, President Reagan governed with big spending for security, schools and the other Reaganite objectives listed earlier.
This is a typical Republican pattern. For example, compare the second Bush Administration's election attacks on Clinton's spending with the reality of Bush's huge budget increases — far above Clintonian levels.