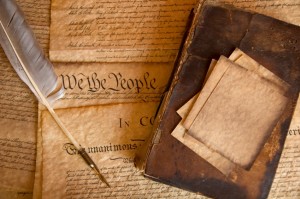 A 5-Week Course Taught by Oliver DeMille with Guest Presenter Orrin Woodward
Register by August 15th to get the early-bird discount of $199. Course fee will be raised to $249 after August 15th.
This 5-Week Class will run from August 29th thru September 26th, and the audio and materials will be sent to you by email every Thursday evening. Each class will last between 90 minutes and 2 hours.
<
The class will build on Oliver's seminar, "Hanging By a Thread," and take participants through the main points of the Constitution, how our freedoms have eroded, and what is needed to get back to a truly free system.
This will be taught in the deep yet enjoyable style students have come to expect from Oliver DeMille, appealing to those who need to learn the basics about the Constitution and also to advanced Constitutional experts — and everyone in between.
Don't miss this chance to learn about the Constitution from one of the top freedom thinkers of our time!
Each weekly speech will go into a level of depth few people have considered, and help you understand the basics as well as the real details of this great document of human freedom. Those who don't understand the Constitution will never really understand our freedoms, and this class is a one-of-a-kind course because of the depth and background of the teacher.
This is an excellent class for all adults who care about freedom, and for youth above age 13 who also want to understand the Constitution. Study guides for youth and children will be included with each class email, so parents and teachers can teach the material they learn to younger students. A reading guide for adults will also be included with each weekly course.
Since this class will be sent to you by email, you can listen to it each Wednesday evening like a regular class, or you can listen to it whenever you want during the week. And you can listen to it over and over and learn the Constitution in detail.
How to Register
To register for this course, click the Buy Now button below, and upon completion of your transaction please confirm your request to join the class by clicking a link in the email you will receive.
IMPORTANT: You must confirm via the link in your email in order to receive the course materials. If you don't see that email within an hour after completing your transaction, please contact us here!
If the address on your Paypal account will not work for receiving the course materials, please contact us here to request that we add your alternate address to the class list. Please include in your message both the email address for your Paypal, and the address you want us to use to contact you.
Course Overview
Week 1:
The 10 Branches of Government and How They Were Meant to Work Together and Against Each Other
The 7 Branches of Leadership in Society, and How they Interact with the 10 Branches of Government
How Any Break in the System Leads to Decline
Recommended reading: The Law by Frederic Bastiat
Week 2:
The Supreme Court's Attack on Freedom through Specific Cases
How Freedom Was Lost in 5 Big Attacks on the Constitution (1-1803/1824, 2-1865, 3-1913/1936, 4-1944/1964, 5-2006/2013)
Understanding Exactly How Our Freedoms Were Lost – What Less Than 1% of Americans Know
Recommended reading: 1913 by Oliver DeMille
Week 3:
Oliver DeMille and Orrin Woodward, The Madison Dialogues: How 9 Resolves Can Fix America, Details with Questions and Answers
Real Solutions for Modern America
Recommended reading: LeaderShift by Orrin Woodward and Oliver DeMille
Week 4:
Oliver DeMille and Orrin Woodward: The Madison Dialogues: The 5 Laws of Decline
The Power Pendulum of Chaos, Coercion, and Concord
The Six Duties of Society
The Proper Role of Government is ½ of 6 Duties
Recommended reading: LeaderShift
Week 5: Advanced Course
*Class details subject to change as needed.
Participants may listen to each course on their own schedule.
Course Details
The course email for the week will be delivered each Thursday, starting on August 29th and running for the next five weeks thru September 26th.
Early-Bird Fee is $199 for those who enroll by August 15.
Regular Fee is $249 after August 15.
Participants get their own books, available on Amazon.com or at BarnesandNoble.com.
Course Readings