By Oliver DeMille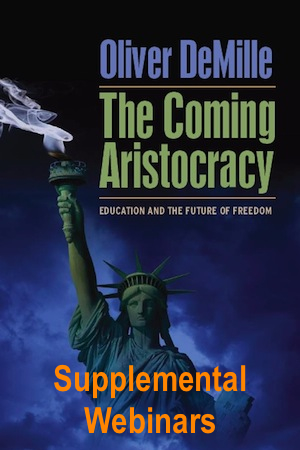 These two online classes were taught as a supplement to Oliver DeMille's book, The Coming Aristocracy.
This product includes two MP3 downloads, consisting of 2 hours and 45 minutes of lecture from Oliver DeMille.
Get the downloads to learn:
The seven institutions of society, and why they must be on an equal plane to protect freedom.
The three main groups vying for power ("econocrats," "aristogovs," and freedom lovers), and how each of them think and act.
Why freedom-lovers have been losing for the past century, and why they'll continue to lose unless they drastically change their tactics.
The two most important things regular citizens can do to prevent aristocracy from growing and to promote freedom.
Why the rise of "mini-factories" is the biggest trend supporting freedom.
How to successfully start and operate your own mini-factory, and why that has a direct and powerful impact on freedom.